Contributors: Hali Coombs, Haley Kelley, Joseph Wallace
March: The month that brings us National Frozen Foods Day, National Learn About Butterflies Day, and even…wait for it…Melba toast and Bunsen Burner Days brings us a random holiday I think most of us can agree is pretty great: National Potato Chip day on Thursday, March 14th. How are you planning to celebrate?
According to Statista, approximately 34.84 million Americans consumed MORE than 16 bags of potato chips in one year. We apparently have an adulation for these savory snacks.
As time has gone on, chips have evolved, and Americans have gravitated to the more gourmet. We can always count on brands like Zapp's and their "Voo Doo Gumbo" or "Spicy Cajun Crawtators" to challenge our potato chip bucket list of the truly adventurous culinary pursuits. You can also be on alert in the fall when Frito-Lays comes out with new flavors for the public to vote on. The losers are just sold out or tossed, so that makes them hard to come by in the spring. This previous year, they debuted Cajun Spice, Chili con Queso, Chesapeake Crab Bay Spice, Deep Dish Pizza, Fried Pickles with Ranch, New England Lobster Roll, Pimento Cheese, and Sweet Thai Chili.
We still wanted to test the more gourmet and courageous. We hit up Wal-Mart and Aldi. This time of year, Aldi picks up the slack left by Lays and their discontinued flavors with some unique flavors sold in their seasonal section this time of year (don't look in the chip section). Likewise, Kroger is also a good source for unique flavors in their store brand.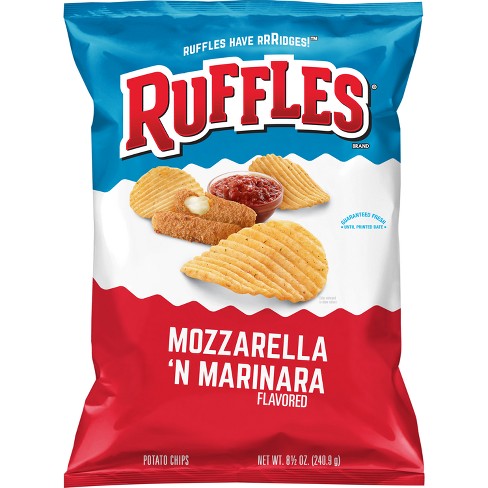 Mozzarella 'n marinara by Ruffles (Wal-Mart): A very interesting take on the taste of pizza goldfish. I see where they were going with the marinara, but unfortunately the mozzarella wasn't there. Honestly this chip wasn't a very delicate chip, but it was a nice spin on a classic favorite. It had a nice hint of pizza, which I wasn't mad at, based upon my recent disliking of pizza.
Mr. Jeremy Jones, Honors Accelerated 9th Grade math teacher was pulled in to taste test with us. For this chip, he commented that these chips made him want mozzarella sticks! "Tastes like what's it supposed to taste like."
Clancy's Sweet Maui Onion Kettle Cooked Chips (Aldi):
It is a sweet chip, and that's it. I was expecting a very oniony chip with a subtle hint of sweetness. The chip overall wasn't bad, but I feel like I was expecting more from the brand and the chip itself. Pick a dominate flavor, people! I honestly don't know if I love or hate this. It's honestly just a Funyun donut.
"Where's the Maui?" said Mr. Jones.
Ruffles Jalapeno Ranch (Wal-Mart):
I thought it was going to be spicy giving that it was jalapeno-flavored, but it wasn't, which is making me guess either it's not spicy at all (a disappointment) or I have built an immunity to this sort of stuff. I found them very good and after eating a lot of them, they are now getting a little spicy. It tastes like sour cream and onion if it had a little redhead step-brother. Definitely suggest for national potato chip day.
Mr. Jones said with subtle disappointment: "I was really expecting more jalapeno."
Clancy's Buffalo Blue Cheese Kettle Krinkle Cut (Aldi). This one was a little spicier than the Jalapeno Ranch; however, the Jalapeno ranch took numerous chips to make my mouth to feel something while the Buffalo Blue Cheese smacks you with its spiciness. Ms. Teasley, 9th Lit and Newspaper club teacher called it a "mean chip" and I do agree with it. It's aggressive in its flavor—I don't know if it's the buffalo sauce or the blue cheese. If you like those flavors, you will likely enjoy it. It does make me cough with each swallow, so maybe it's more exciting than an ordinary chip.
Mr. Jones ate several, and said, "I really like it, but it's got a chemical taste."
Specially Selected Balsamic Vinegar & Rosemary Kettle Chips (Aldi):
Aldi's "Specially Selected" label is an internationally award-winning private label offering more gourmet products from around the world. In other words, we're expecting it to be fancier. These chips taste like pure vinegar. Like you just somehow made vinegar into a solid, this is what it tastes like. That being said, it has an oddly satisfying aftertaste. Some of us prefer this complexly sour flavor. Even if I don't want the before taste of vinegar, I want to eat more for the aftertaste. My taste buds are very conflicted. IT IS a pretentious-sounding name as authentic balsamic vinegar can run up to $400 a bottle according to Huffington Post. Add that to the garden fresh sound of rosemary–the paradox of the fried potato–and you think you're set to impress your plain Jane Lays friends, though it just cost you $1.85/bag.
"I like those best" said Mr. Jones.
Clancy's Horseradish Cheddar:
I want to curse whoever made this terrible chip. This chip caused me to go through the five stages of grief in .5 seconds. If I was on an island with only Horseradish Cheddar chips, I would starve to death. Even five minutes later, I'm still traumatized by this experience. I had to shove a mouth full of gummy bears just to get rid of the taste. Please avoid unless you have an infatuation for horseradish or a fan of mean masochism. Also, as evident from the picture, I think the Photoshop job done on the color of these chips is incredibly misleading.
Mr. Jones said while popping the third chip in his mouth "If they maybe had more cheddar… maybe.. I dunno…" seemingly unimpressed. I was shocked he didn't faint.
Specially Selected Pancetta & Parmesan (Aldi):
Pancetta, the dried bacon-ham hybrid, can run between $9-19+ a pound, so it joins the balsamic chip in fancy flavors for a fraction of the price. As a chip flavor, it was an awful experience, but the room had mixed reviews. It reminds me of expired bacon bits, and not in a good way. It doesn't taste like a normal flavor of chip, and it honestly is revolting to me. Others in the group are very supportive of these, but, not me, they are "just okay."
"Sharp parmesan? Where?" asked Mr. Jones, clearly disappointed.
We challenge you to eat chips in honor of Thursday's holiday, no matter if you get adventurous or don't. Let us know. Is there a unique flavor you enjoy? Please let us know!