On November 26, Americans will all be feasting on turkey, mac and cheese, and a variety of other popular Thanksgiving foods. However, this tradition is uniquely American.
This begs the question, do other countries have their own versions of Thanksgiving? If so, what are their traditions?
Aside from the United States, there are five other countries that widely celebrate a form of Thanksgiving: Canada, Germany, Liberia, Norfolk Island, and Grenada.
Canada
Canada celebrates their version of Thanksgiving on the second Monday of October.
The origins of Canadian Thanksgiving is somewhat similar to what occured in America.
The story is that in 1578, Martin Frobisher, an English explorer, sat down to have a feast with his crew made up of salt beef, biscuits, and mushy peas to give thanks for a safe voyage to Canada.
Since then, the traditions have also developed much like the American traditions.
Common foods for Thanksgiving dinner in Canada include roasted turkey, stuffing, sweet potatoes, corn, and gravy.
However, unlike the United State's holiday, Thanksgiving in Canada is not nearly as much of a big deal.
Most Canadians consider it to be a fun time to spend with friends and family but there is little more to it. The city of Quebec widely does not celebrate it at all.
One unique tradition that seems to be unique to Canadian Thanksgiving is that they often take the day to go on long walks and hikes. It's the perfect weather in early October and many feel that walking in nature helps them feel more thankful for what they have.
Germany
Thanksgiving in Germany, also known as Erntedankfest (harvest festival of thanks), is celebrated on the first Sunday in October.
The celebration is typically held in a church and is an all day affair.
They start out at around 10 a.m. with a church service which then progresses into a procession at two p.m. This procession highlights the Harvest Crown, which is a traditional symbol of the holiday.
After the procession, they begin music, dancing, and food at three p.m. both inside and out of the church.
This is followed by a lantern and torch parade around six p.m. to go with another night church service. They even have fireworks to keep the children interested.
These celebrations don't come to an end until around seven p.m.
Liberia
Thanksgiving in Liberia has been celebrated on the first Thursday in November since the early 1880s, when the Liberian government declared it a national holiday.
Much like the United States, they see the holiday as a day to give thanks for the freedom and foundation of their country.
Founded in the early 19th century, Liberia has had somewhat of a rocky history. So many people see the holiday as a day to count their blessings and celebrate what they do have.
They've adapted the traditional Thanksgiving meal to fit their region so many families eat roasted chicken, mashed cassavas (which is similar to mashed potatoes), and green bean casserole.
Some people also choose to add cayenne peppers to spice up to the meals.
It's also deeply religious for some. People will gather in their place of worship and bring fresh fruits of the recent harvest that they will later auction off as part of the celebration.
After this many families return home to follow the more American traditions of the holiday such as the family meal.
Some even gather at night for dancing and concerts to further celebrate the little things in life.
Norfolk Island
Norfolk Island is a small Australian territory that also celebrates Thanksgiving.
Their Thanksgiving is based off of the American holiday so much of the traditions and food is similar to what is in the United States.
The story behind why they adopted this American holiday originates with a Norfolk resident by the name of Isaac Robinson. Robinson became a diplomat to the United States and liked the holiday so much that he wanted to bring it back to his homeland.
Robinson did this by decorating pews with palm leaves and lemons until he died at sea in 1868. People decided to continue celebrated the holiday and it is now celebrated annually.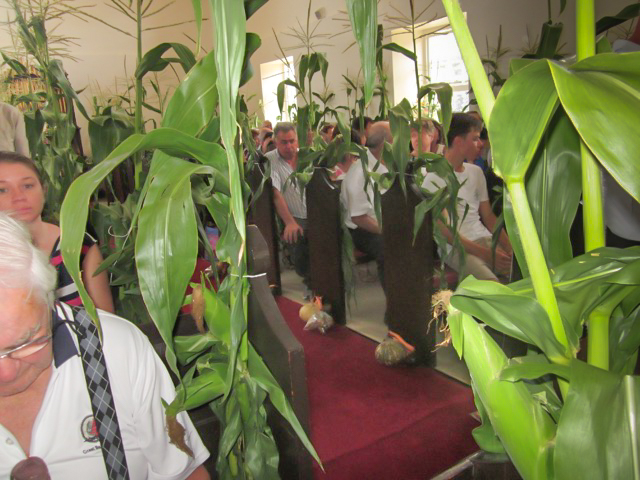 Now many people celebrate the holiday by getting together and having a potluck of cold pork, chicken, pilhis (a type of sweet bread), and pumpkin pie.
There are also a variety of banana dishes.
To go along with the potluck, some people bring fresh produce to churches and sell them to raise revenue for churches and other places of worship.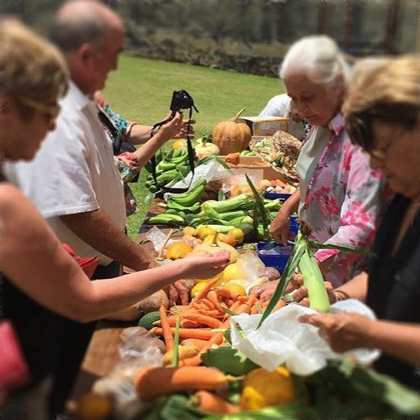 Grenada
The final country to celebrate Thanksgiving is Grenada, a small country in the Caribbean Sea.
Their Thanksgiving is celebrated on October 25 every year.
Grenada celebrates in remembrance of the day that the United States rescued them from a communist takeover and restored a constitutional government.
They celebrate the holiday through more formal celebrations. However, many rural communities don't do anything for the holiday.
Most shops, bands, and restaurants close and Thanksgiving is largely recognized as a day to remember the liberation of their country and give thanks to the soldiers who assisted in freeing them.
The one thing all of these countries have in common is that they spend Thanksgiving giving thanks for even the little things in life.
We at the Warrior Word wish you all a very happy Thanksgiving!