I believe breaking a barrier dictates that we refuse to let the power of representation slip right through our hands and into the laps of others, leaving decision-making to the very same powers who've designed and facilitated the existence of the boundaries we're so eager to break.
According to dictionarycambridge.org, the adage "Breaking down barriers" is to improve understanding and communication between people who have different opinions.
In light of Black History Month, I'm honoring just a couple of those who broke down these barriers.
Four of the most extraordinary leaders who have knocked down boundaries leaving lasting legacies are Rosa Parks, Martin Luther King Jr., Harriet Tubman, and Jackie Robinson.
These are the leaders who have broken down barriers for the benefit of our nation's growth. If they had not taken on the risk or faced the opposition they did, our nation could not have advanced in the areas it prides itself: humanity, democracy, equality, and respect to personal gifts. All have one thing in common: heroic decision making and commitment to a cause, even when faced with overwhelming opposition, doubt, and criticism.
"I was not born to be forced. I will breathe after my own fashion. Let us see who is the strongest"–Thoreau on civil disobedience
Rosa Parks
"No, the only tired I was, was tired of giving in." ~Rosa Parks
Rosa Parks is a hero because, through civil disobedience–refusing to comply with an unjust law–she ultimately aided in dissolving Jim Crow laws and segregation. From humble beginnings with no intention of being a civil rights hero, she committed to her cause working alongside Dr. King Jr. and others. Without causing any harm to others, she boldly encouraged those who were intimidated by risk.
Rosa Parks became an icon of the American civil rights movement simply by refusing to give up her seat on a city bus. This act of civil disobedience sparked courage in others demonstrating the power of action or inaction when faced with intimidating opposition. She teaches us that we do not need to have the status, popularity, money, or influence to be able to make a positive difference.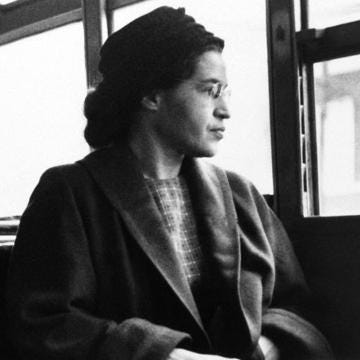 Dr. Martin Luther King Jr.
"Free at last, Free at last, Thank God almighty we are free at last." Dr. Martin Luther King Jr.
Dr. Martin Luther King Jr. is also an internationally recognized hero for his efforts in promoting social justice. He is honored as a model of civil disobedience in a time of turmoil, a figure of peace and equality, a gifted orator expressing the lack of basic logic in bigotry, and a soft-spoken thunder in the house of Washington.
Although recognized for his many works, his iconic" I Have A Dream" speech has changed this world forever and continues to urge humans to befriend and love one another-.
Dr. Martin Luther King Jr's "I Have a Dream" speech was a pivotal moment for the Civil Rights Movemennt, and has influenced generations long after that historical moment at the National Mall.
Inspired by the idea of civil disobedience from writers like Henry David Thoreau, Dr. MLK Jr, like Rosa Parks, broke barriers by breaking unjust society rules. Like Park's protest, Dr. King Jr. peacefully protested unjust treatment of African Americans in Birmingham Alabama resulting in his imprisonment.
Although King was only 39 at the time of his death, his life was remarkable for the ways it reflected and inspired so many of the twentieth century's major intellectual, cultural, and political developments.
In 2011 Martin Luther King Jr. memorial dedicated in Washington D.C. and his life ended in tragedy. However, he will always be remembered, and people across the nation continue to work to make his work and vision lives on.
Harriet Tubman
"Every great dream begins with a dreamer. Always remember, you have within you the strength, the patience, and the passion to reach for the stars to change the world." Harriet Tubman
Harriet Tubman is an American hero and an icon of freedom. Standing at only five-foot-tall, she powerfully led hundreds of slaves away from the bondage of slavery.
Tubman risked her life countless times to ensure the possibility of others to live. Harriet Tubman was an escaped slave who could have remained in safety, yet she returned many times to help others. If found, it would have been the end of her life and others, yet she took that risk.
Tubman had a bounty (reward) on her head of $40,000. This would seem like too much to payout to her captors, but it was estimated that she had helped enough slaves escape resulting in the loss of $300,000 in property damages (source). This is her legacy and she will always be appreciated for her kind, and brave civil disobedience.
Harriet Tubman is the best known female abolitionist of antebellum American. She developed a secret code language that was used to communicate among Underground Railway supporters. Letters would usually contain code language just in case the letter got intercepted. Since most slaves were illiterate, many instructions were given by signal songs which had hidden messages only slaves could understand. Slaves sang spiritual songs praising God every day, which masters often encouraged.
"Despite the pain and struggles Tubman faced, Harriet Tubman dedicated her life to compassion and equality, from freeing enslaved people to advocating for women's suffrage to caring for the elderly. By Sept 1849 Tubman was aided by members of the Underground Railroad. To her, freedom felt empty unless she could share it with people she loved so she resolved to go back and rescue friends and family," says National Parks.
Jackie Robison
"I'm not concerned with your liking or disliking me… All I ask is that you respect me as a human being." ~Jackie Robinson
Lastly, Jackie Robinson. Jackie Robinson is credited as one of the first African Americans to play on a major league team. The year 2007 marks the 60th anniversary of that important event in history. Jackie Robinson's place in baseball and American history is being remembered this month.
One biography reports, "In 1947, Jackie Robinson broke the color barrier that not only changed baseball, but changed the culture and society of America itself."
Robinson demonstrated that justice, mixed with a strong will and sense of obligation to the cause, is stronger than any force against him. Because of his courage, he led others to follow in his footsteps, and caused the opposition to crumble.
This is his legacy that is still alive. Jackie Robinson was not only a great baseball player, he was a great man who had enormous amounts of courage and pride. Jackie Robinson broke the color barrier when he became the first black athlete to play Major League Baseball after joining the Brooklyn Dodgers in 1947.
"Throughout his decade-long career, Robinson distinguished himself as one of the game's most talented and exciting players. Despite all of the racial criticism, Robinson push through and became rookie of the year in 1947 and National League MVP in 1949," reports Biography.
Robinson broke the color line, made MVP, entered the Hall of Fame, and fought racism at all costs. "Jackie Roosevelt Robinson dedicated his life to Civil Rights. He inspired millions when he broke the chains of integrated baseball," (Solipsis).
We should remember this great man for his contributions to the athletic world and for his work to give all people the freedom they deserve.
There are many more heroes known in the remembrance of Black History. These four all broke barriers by breaking standards, unjust laws, or defying opposition. They've had a tremendous impact on our world and society. They have broken down bigger and tougher barriers that few would risk. As MLK said "Our lives begin to end the day we become silent about things that matter."