By: Staff Writer
Resolutions are rolling out on the feeds as fast as the treadmills and vitamins pushed out the holiday candies and cookies in every big box store. However, according to Business Insider, 80% of resolutions are broken by the second week in February. That means some people have gallons of milk older than their resolutions. No comment from yours truly. Your heart may be in the right place, but how to make those desires doable?
The new year signifies a new start for many, and as students with the first semester under our feet, the new year may mean a revived sense of productivity and responsibility. Maybe we will start going to bed earlier? Maybe we will start finding ways to boost confidence? Maybe we will turn in our work on time? Maybe a new job?
S.M.A.R.T. goals are more than smart.
The first thing experts say is to stop resolving and start planning and implementing with GOALS. Here are a few tips on how to do this.
Goals are wishes with a plan, but when you make your goal SMART, that goal takes on superhero status.
Let's start with a common goal: turn in assignments on time–now let's make it SMART.
Specific

-I will turn in my homework assignments for English class.

Measurable

-I will track my work completion and due dates daily using my phone's calendar reminders and school agenda.

Attainable

-I can accomplish if I focus in class and provide myself with more than enough time.

Realistic

-This is a realistic expectation that I can do, and I will work with my teacher to make it possible.

Time-bound

– By the progress report date, I will have at least a high B in my daily assignment grade by turning in 100% of my work.
Apply this idea with all of your goals! Short-term goals are those that you may want to achieve within the next few months (new job, car, grades, improvement in class). Long-term goals are those that will take longer (college degrees, career plans, etc). Create SMART goals for both!
Visualize success
Another tip is to create a vision board (pictured at the top of the post). According to Forbes, visual inspiration is one of the leading practices by successful entrepreneurs even helping them be twice as likely to feel confident in pursuing goals.
In their article, many statistics proved the success of creating visual goals. This has been especially important for Millennials and Gen Zers who may be more visually-driven than our previous generations with the rise of platforms such as social media and YouTube. Almost 90% of millennial business owners used vision boards in writing their business plans.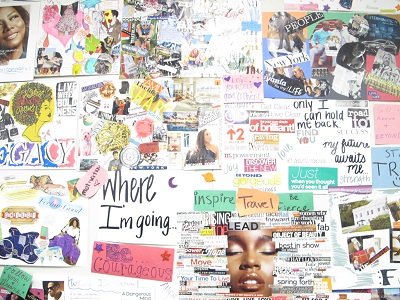 Celebrities such as Oprah, Will Smith, and others have also highly recommended visualizing the goals and life you aspire to have through techniques such as vision boards.
What about you? Break out the scissors and magazine and maybe make your own vision board this week!