On June 15 2018, an indie game company called InnerSloth released a game called 'Among Us'. It was not well-known, had a small fanbase, and regarded as just another game that InnerSloth had created. This was until fall of 2020.
Many popular YouTubers and Twitch streamers like WilburSoot, CORPSE Husband, and Sodapoppin, or Chance Morris, started playing the game to their large audiences back at the beginning of of July and August.
It's popularity boomed by mid-September, with everyone hopping onto the newest gaming trend. Memes about the game flooded social media sites like Twitter and Reddit, just making it more appealing to the younger generation.
Among Us is an online multiplayer game set on a spaceship that can be played on either mobile or PC. Each round consists of 4-10 players. A player, or up to 3 players, is designated a role of 'imposter' and the rest being 'crewmates'.
The crewmates run around the ship trying to complete their assigned tasks, little mini games, while the imposter runs loose trying to kill off all the other players. Players can also be voted off the ship with emergency meetings or when a body is stumbled upon.
The game is simple to win. The crewmates either have to finish all of their assigned tasks or vote out all the imposters. The imposters either have to kill everyone, or sabotage the ship enough to where they win by default.
Among Us is a modern, cartoon-like game of the traditional class games like Werewolf or Mafia.
What makes it so appealing?
This is one of the most popular games in the world right now with target audiences ranging from children-to-adult. Even some teachers are replicating the Among Us theme for lesson buy-in. Here are some of the top reasons why the game has been so popular.
1) Cost
One of the best thing about Among Us is definitely the cost. If wanting to play on mobile, a player can download the game for free off of the App Store. If you are more of a traditional player and want to enjoy the game on PC, it is avaiable for purchase for only five dollars.
Although the PC version does involve an actual purchase, if the player is more comfortable with PC gaming it would be more of a fun experience for the player. It is also cheaper than many other online multiplayer PC games like Minecraft, which is $26.95, or Fall Guys, which is $19.99.
2) Accessibility
Another thing that made Among Us so popular is how accessible the game is. Because the mobility with the app, the player can pretty much play everywhere and anywhere with anyone else in the world.
This is very beneficial for around the time the game's popularity spiked: right in the middle of the pandemic. With everybody trying to pass time, Among Us was the perfect solution. Players can easily play with their friends or even make new friends in the servers.
3) Easy gameplay
How simple the gameplay is also has a huge part on how fast it is spreading. The game requires low effort to play and is very quick to pick up. Unlike other online games, this one does not require a high skillset in gaming.
4) Social media
The presence of social media made this game even more desirable. Memes regarding Among Us started trending on everything: from Twitter to Instagram to Reddit.
Social media has a huge role in the popularity that surrounds a new game. Among Us has been a trending topic in social media–from memes and tweets, to Instagram and Facebook posts featuring Among Us carved pumpkins and Halloween costumes. As the social media hype grew, more people were intrigued to play.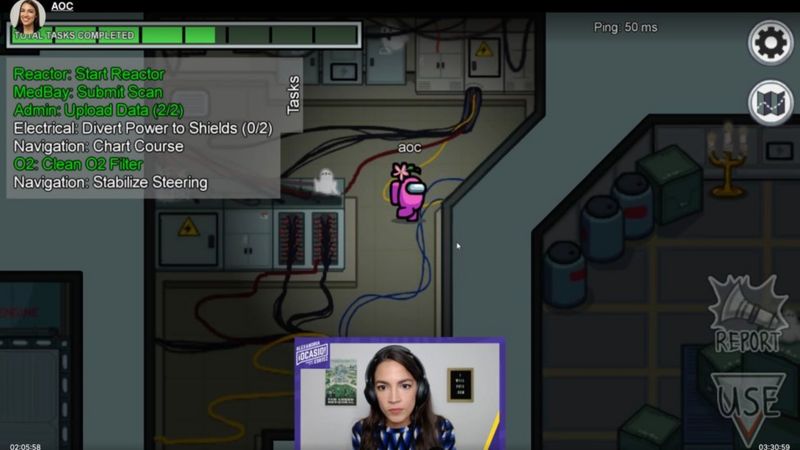 Although Among Us may be the biggest trending game right now, it is only a matter of time before the game's popularity fades as quickly as Animal Crossing or Fortnite.
But we thank Among Us for being the best thing about 2020: giving us content, jokes, and fun memories with friends.
What is your favorite thing about Among Us?